Volvo Power Generator Rated Output 150kVA for Sale
Supply 150kVA diesel generator powered by Volvo diesel engine model TAD731GE and Stamford alternator model UCI 274 F. The 150kVA Volvo diesel generator use the Deepsea brand controller model DSE3110 with heavy-duty electric gauges. The Volvo diesel engine is produced by Volvo Penta in Sweden.
Supply Scope of 150kVA Volvo Generator:
1. Volvo diesel engine model TAD731GE standby power 148kW at 1500r/min.
2. Stamford alternator model UCI274F rated output at 150kVA / 120kW at 50Hz.
3. Control panel with Deepsea DSE3110 controller made in the U.K. and heavy-duty electric gauges.
4. Water cooling system with radiator and fan.
5. Base frame with fuel tank capacity at 250Litres for continues running for more than 8hours at 100% load.
6. Heavy-duty 3 pole circuit breaker with capacity at 250A for 150kVA Volvo power generator.
7. Soundproof and waterproof canopy with the noise level at 75dBA at 7 meters for optional.
8. Dampers for anti-vibration for diesel engine and alternator.
9. Two of D.C. 12V free maintenance for starting of Volvo electric generator.
10. Complete set of documents included diesel engine manual, alternator manual, control panel manual, and diesel generator manual.
Diesel engine for Volvo Power Generator
Specification of 150kVA Volvo Diesel Generator:
Volvo Generator Set Specification

Standby Power (ESP)

165

kVA

Alternator Brand

Stamford

132

kW

Alternator Model

UCI 274 F

Prime Power (PRP)

150

kVA

Controller

Deepsea DSE3110

120

kW

Measure (L x W x H) --mm

3200 X 1080 X 1500

Mechanical Structure

Soundproofed

Empty Weight (kg)

1950

kg

Engine Brand

Volvo

Fuel Tank (L)

250

L

Engine Model

TAD731GE

Noise Level for Soundproof

75

dB(A) at 7m

Diesel Generator Ratings

Voltage (V)

Frequency (Hz)

Phase

Standby Amps. (A)

Standby Output

Prime Output

kVA

kW

kVA

kW

380/220

50

3

250.7

165

132

151

120

400/230

50

3

238.2

165

132

151

120

415/240

50

3

229.6

165

132

151

120
Volvo Open-type Diesel Generator Design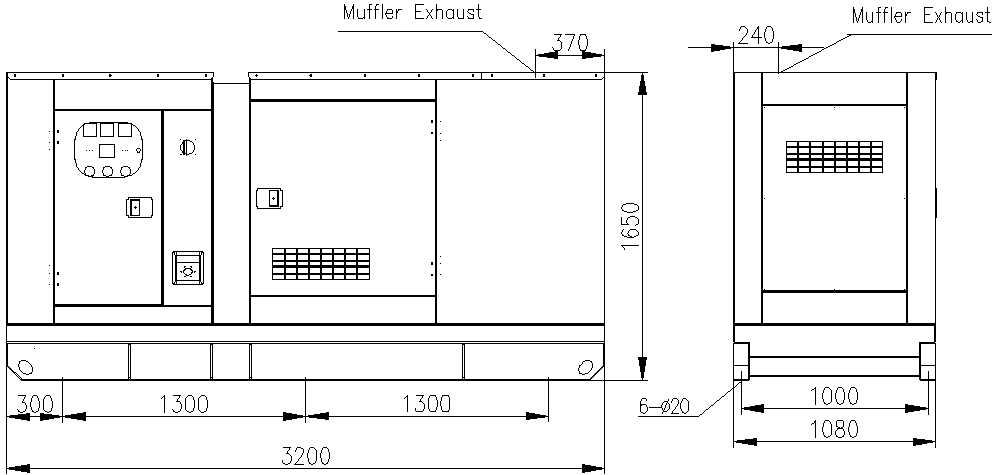 Volvo Soundproof Diesel Generator Design
Volvo Diesel Engine Specification

Engine Brand

Volvo

Engine Model

TAD731GE

Cylinder Nos.

6 Cylinder inline

Aspiration

Turbocharged

Cooling Method

Water Cooling

Governor

MECH

Engine Max. Output at rate 1500R.P.M.

kWm

148

BHP

198

Displacement

Liters

7.15

Engine Speed

R.P.M.

1500

Bore

mm

108

Stroke

mm

130

Fuel Consumption at 100% load

Liters / H

34

Oil Pan Capacity

Liters

20

Exhaust Gas Temp. at rate output

°C

540

Exhaust Gas Flow at rate output

m3

/min

31.00
Stamford Brushless Alternator Specification

Manufacturer

Cummins Generator Technologies

Alternator Brand

Stamford

Model

UCI 274 F

Rate Output

kVA

160

Rate Frequency

Hz

50

Altitude

M

≤

1000

Alternator Type

Single bearing, brushless type

Connection Type

Three phases, four wires

Protection Grade

IP23

Insulation Class

H

Voltage Regulation

Automatic Voltage Regulation (AVR)

Standards

Compliance with GB755, BS5000, NEMA MG1-22, IEC-34, CSA C22-100 and AS1259 Standards.

Alternator for choice Volvo Power Generator

Brand

Leroy Somer

Marathon

Mecc Alte

Hosem