Ground Power Unit 90kVA with DC and AC Output for Aircraft
1. Main Performance and Technical Specification of 90kVA Ground Power Unit:
Genset Output

72kW / 90kVA

Output Type

1) AC 400Hz, 3 Phase 200V, Generator Output

2) DC 28.5V, supply by alternator via rectifier.

Output Specification

AC 400Hz 3Phase, 200V

1) Rate Output: 72kW / 90kVA;

2) Power Factory: 0.8(Lagging);

3) Rate Voltage: 200/115V, 3Phase;

4) Rate Frequency: 400Hz;

5) Rate Current: 259.8A;

6) Over Load Running : 325A.

DC28.5V

1) Rate Voltage: DC28.5V;

2) Rate Current: 600A;

3) Peak Current: 2000A;
1.2 Overall Dimension of Ground Power Unit:

A. Overall Dimension: 5995 x 2550 x 2700 (mm)
B. Total Weight: 6440kg
C. Noise Level: ≤75dB(A) at 7 Meters distance, and in 1 Meter height
D. Brand of light truck: Isuzu
1.3 Specification of Diesel Engine:
Diesel Engine (Cummins Brand)

Mode

6BTA5.9-G2

Max. Output

120kW

Cylinder No.

6 Cylinder in line

Fuel Consumption

215 (g/kW.h)

Bore/Stroke

102/120 (mm)

Displacement

5.9 (L)

Aspiration

Turbocharger

Compression Ratio

17.3 : 1

Starting Battery Voltage

24 V

Steady Adjustment

≤1%

Rate Speed

1500R.P.M.

Governor

Electric
1.4 Specification of Alternator:
AC Alternator

Model

H260-30

Rate Voltage

115/200V

Frequency

400Hz

Power Factor

0.8 (Lagging)

Rate Output

72kW

Rate Current

259.8A

Insulation

Class H

Voltage Adjustment Range

±5%

Protection

IP23

Steady Voltage Adjustment

≤±1%

Efficiency

93%

Excitation and Voltage Control

Self-excitation, Brushless AVR

DC Rectifier Alternator

Rate Voltage

28.5V

Output Current

600A

Surge Current

2000A

Voltage Adjustment Range

24~30V

Insulation

Class H

Voltage Control

AVR

Excitation

Self excitation, brushless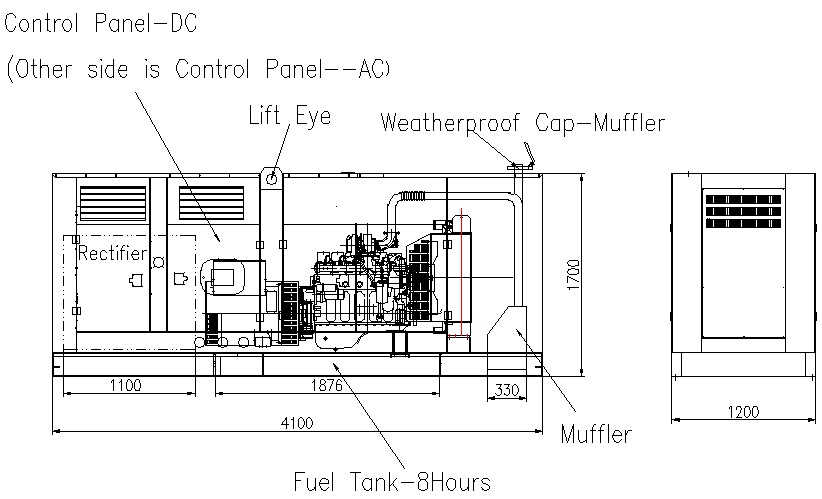 1.5 Control Panel
Diesel engine and alternator control & protection by Smartgen brand controller model HGM7210 (the controller special for 400Hz diesel generator); DC voltage, Current measure will display and protect by APZ-72.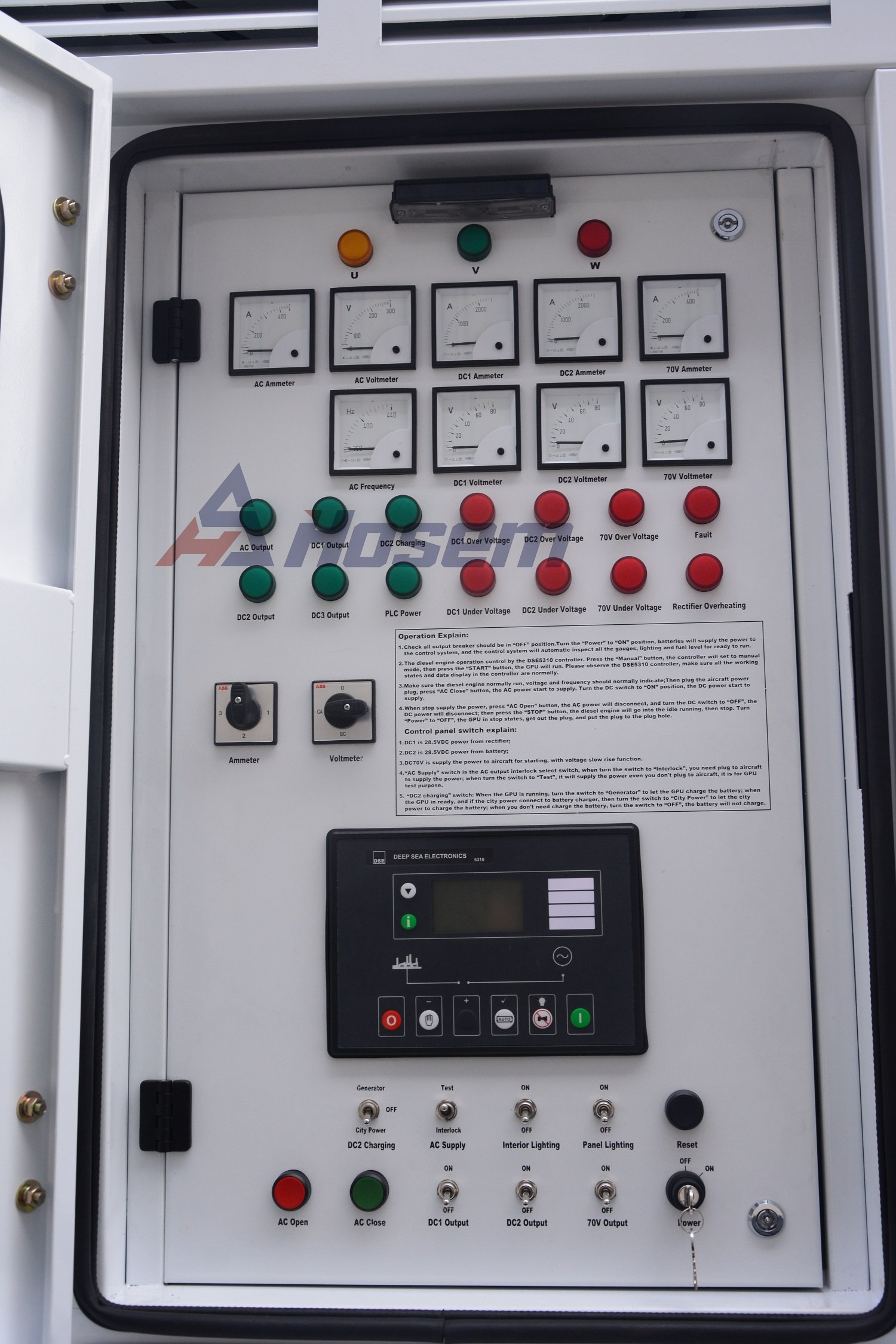 1.6 Trailer Frame
A. The bottom of trailer frame with holes for forklift.
B. Trailer tow bar with brake for parking.
C. The front wheels with turn function.
2. Technical Data of Ground Power Unit:
The specification is meet the standard of MIL-STD704E
2.1 Three Phase AC Power
2.1.1 Rate Voltage 200/115V three phase four wires
2.1.2 Rate Frequency: 400Hz
2.1.3 Rate Output: 90kVA
2.1.4 Power Factor: 0.8 Lagging
2.1.5 Rate Current: 259.8A
2.1.6 Excitation Method: Solid State Self-excitation
2.1.7 Voltage index
2.1.7.1 Voltage Adjust Ratio: 1% from no load to full load;
2.1.7.2 Voltage Modulation: ≤2.5V;
2.1.7.3 Under the balance load, the phase voltage shifting 120°±4°
2.1.7.4 Distortion Factor: ≤ 0.05
2.1.7.5 Wave Crest Factor: 1.31-1.51;
2.1.7.6 Phase Voltage Adjustment Range in No Load: 115±12V
2.1.7.7 Voltage Un-balance: 3V RMS Maximum
2.1.7.8 Transient State Voltage Recover Time Conform to MIL-STD 704E Chart 4 standard, phase voltage transient state peak voltage range: 80 - 180 V, Steady voltage range 108 - 118 V.
2.1.7.9 Inner wiring voltage drop compensate maximum 5% (adjustable).
2.1.8 Frequency standard
2.1.8.1 Frequency: 400Hz;
2.1.8.2 Steady Frequency Range: 393-407Hz;
2.1.8.3 Frequency Steady Time: according MIL-STD-704E chart 5.
2.1.8.4 Frequency Modulation: <4Hz
2.1.9 AC Protection System (The follow data can be adjusted)
2.1.9.1 Over Voltage Trip: Voltage exceed 126V (110% of rate voltage), delay 1-2seconds
2.1.9.2 Low Voltage Trip: Voltage Lower than 101V(88% of rate voltage), delay 7 seconds
2.1.9.3 Over Frequency: Frequency Exceed 430Hz, delay 2-5 seconds, trip
2.1.9.4 Low Frequency: Frequency lower 370Hz, delay 1-3 seconds, trip
2.1.9.5 Over Load: 125% of rate load for 5minutes, trip.
2.2 DC 28.5V Output Data
2.2.1 Ripple Wave: 1.5V RMS(Active Amount) @ 500A
2.2.2 Steady Voltage Range: 22-30V
2.2.3 Protection: When the voltage get to 32V(Factory setting), it will trip after 2seconds delay
2.2.4 No load voltage adjustment range: 20-30VDC
2.2.5 Transient Peak Voltage: According the MIL-STD-704E chart 9.
2.3 Safety System
2.3.1 Common Safety System
2.3.1.1 AC Cable interlock switch install in the E and F contact pin of connector, it will prevent power connection to air-craft, when incorrect connection of cable to aircraft is happened. There is a interlock bypass switch install in the GPU for testing mode.
(Note: we need user's socket specification of connection cable to confirm this term.)
2.3.1.2 Emergency Stop Switch installs in the GPU for emergency stop the GPU, when it is necessary.
2.3.2 GPU Engine Protection
2.3.2.1 Over Speed Protection
2.3.2.2 Low Oil Pressure Shutdown
2.3.2.3 High Coolant Temperature Shutdown
3. 90kVA GPU Structure and Control Panel
The GPU is made up with trailer, soundproof diesel generator assembly, cable duct, electric system and other parts.
3.1 Basis Fuel Tank Capacity: 200Litres, it is enough for generator set continue run at least 8hours.
3.2 Soundproof canopy assembly: with low noise, weatherproof and keep warm function. The soundproof canopy with maintenance doors, exhaust windows, air inlet windows and control panel.
3.3 Control Panel: The control panel install in the side of the GPU, it is convenience for operation and control. The control panel include the follows operation switch, instruments and indicators:
3.3.1 Digital display three phase AC voltage, Current, Frequency, Output etc (Display in the HGM7210 controller); Digital display DC Voltage, Current (Display in APZ-72);
3.3.2 Digital display diesel engine coolant temperature, oil pressure, speed etc(display in HGM7210)
3.3.3 Operation control switch;
3.3.4 HGM7210 controller use for control diesel engine and A.C. alternator.
3.4 Lighting: The LED lights install inside the soundproof canopy for maintenance purpose; LED light install in the control panel for operation purpose.
4. Accessories and Documents for Ground Power Unit
4.1 Repair Kit: Each diesel generator with one tool kit, include screw-driver, wrench, sleeve, multi-meter, tongs and packing box.
4.2 Documents:
4.2.1 Diesel Engine Parts Catalogues
4.2.2 GPU Services Book and Troubleshoot Book
4.2.3 GPU Operation Book
4.2.4 Circuit Diagram and Wiring Diagram.