Brushless Alternator 60Hz 10kVA - 1650kVA for Generator Set
FRAME
All industrial standard alternator is IP21(NEMA1), also IP 23 is an option, But rated power will decrease 5%.
Marine standard brushless alternators is IP23. Air filter is an option, but rated power of the alternator will decrease 5% while it is installed.
AXIS AND KEY
All of the AC alternator rotors should pass balance test, whose vibrations are lower than the minimum of BS6861 P.1 G 2.5 two bearing alternator has a half-key testing balance.
TERMINAL AND TERMINAL BOX
The three phase generator has 12 leads brought out to the terminals in terminal box. The terminal are put on the non drive end. The box is equipped with removable panels.
ENGINE ADAPTOR AND COUPLING
A. New ASF series brushless generator have two kinds construction.
B. NEW ASF series single-bearing brushless generator, engine adaptor to SAE00,0,1,2,3,4,5 and 6 coupling discs to SAE 6.5, 7.5, 8, 10, 11.5, 14,18, 21 and 24 are available.
C. New ASF series double-bearing alternator, engine adaptor to SAE0,1,2,3,4 and 5 are available.
VOLTAGE REGULATION
Voltage regulation refers to the change of voltage from no-load to full-load with power factor ranging from 0.8 to 1 and 3%`s fluctuation of the speed of engine. Voltage is adjusted via potentiometer of AVR.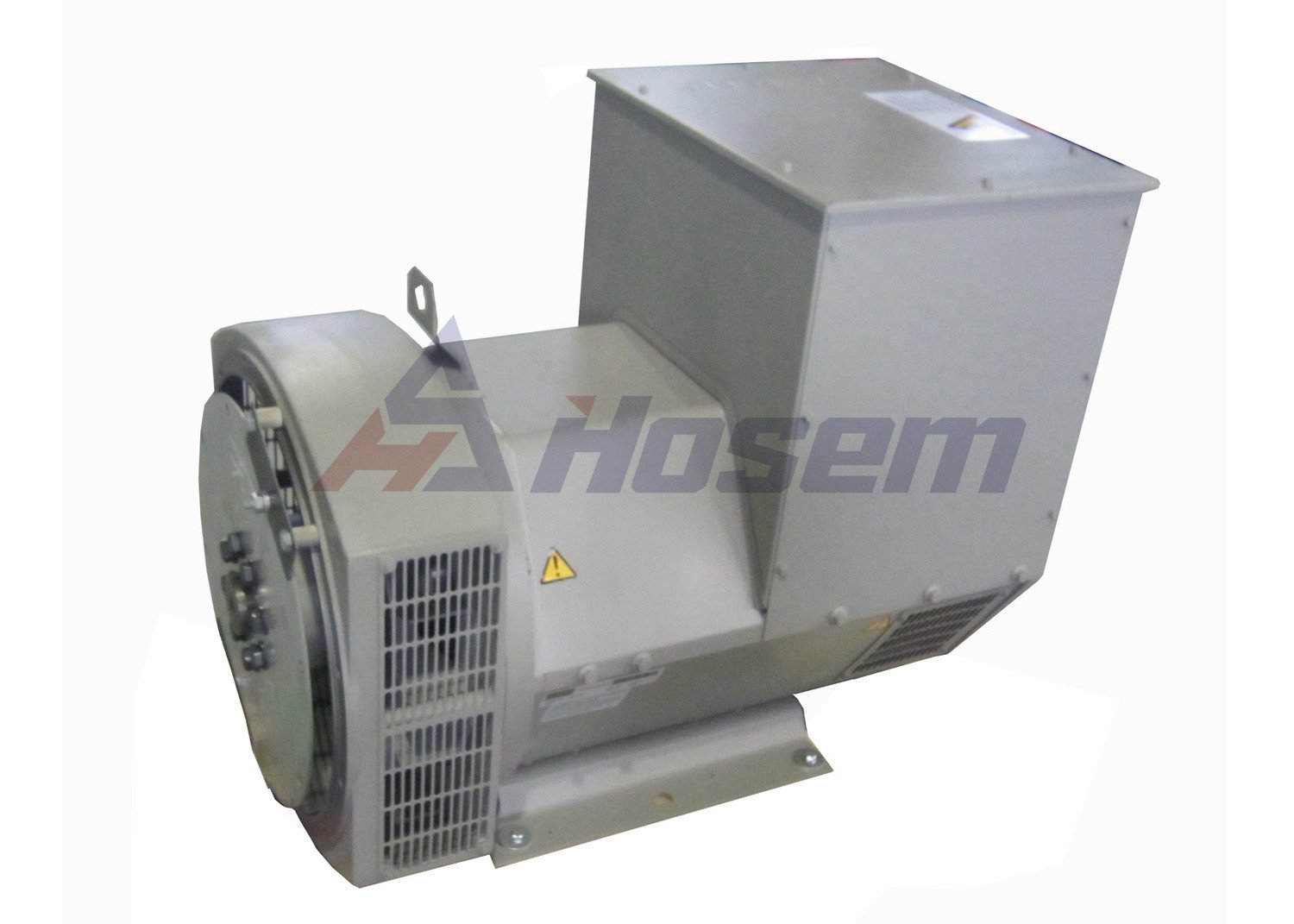 Electric Features
A. Insulation Class H
All regulatory components are made up with special materials and are immersed in lacquer by peculiar tech. Vanish and colophony materials are develop to strengthen the processing and machinery intensity of windings and revolving parts for protecting the alternator work under corrosive environment.
B. Winding and electric features
2/3 pith winding design can effectively eliminate the third harmonic wave(3th.9th,15th) of the voltage ,which is the best design of UPS for nonlinear load .Connected with the network in parallel, the structure can restrain excessive currents in the midline. This and the 2/3 pitch help to check the wave distortion and output voltage.
C. Phone interference and Radio interference
THF (defined by 40thpart of BS4999) <2%.TIF<50
Brushless apparatus and quality AVR ensure little radio interfe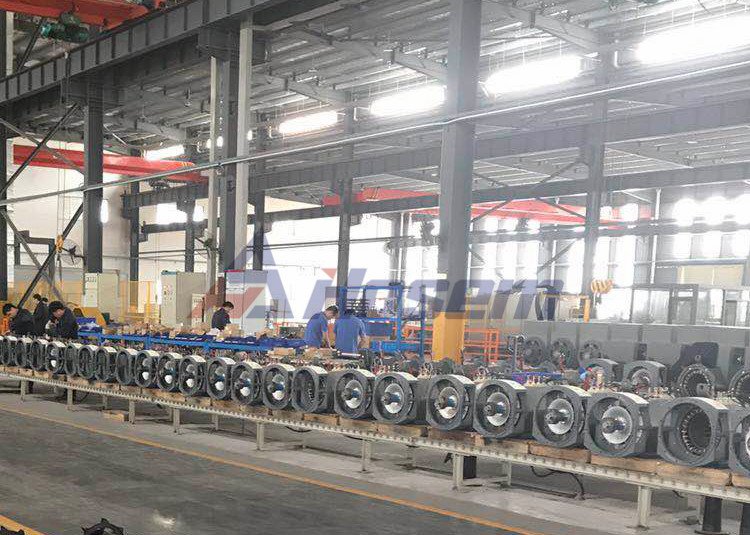 60Hz Brushless Alternator Supply Range

Alternator Model

Continue Output 60Hz

Voltage

Protection

Efficiency (%)

Leads

AVR

KVA

KW

ASF164A

10

8.2

110-690V

IP23

78.0%

12

SX460

ASF164B

14

11

110-690V

IP23

78.0%

12

SX460

ASF164C

17

13.5

110-690V

IP23

80.0%

12

SX460

ASF164D

20

16

110-690V

IP23

81.7%

12

SX460

ASF184ES

24

19

110-690V

IP23

85.1%

12

SX460

ASF184E

29

23

110-690V

IP23

86.3%

12

SX460

ASF184FS

31

25

110-690V

IP23

86.3%

12

SX460

ASF184F

34

27.5

110-690V

IP23

86.5%

12

SX460

ASF184G

38

30

110-690V

IP23

87.6%

12

SX460

ASF184H

45

36

110-690V

IP23

87.9%

12

SX460

ASF184J

50

40

110-690V

IP23

88.0%

12

SX460

ASF224C

53

42

110-690V

IP23

87.1%

12

SX460

ASF224D

63

50

110-690V

IP23

88.2%

12

SX460

ASF224E

73

58

110-690V

IP23

88.8%

12

SX460

ASF224F

88

70

110-690V

IP23

89.9%

12

SX460

ASF224GS

94

75

110-690V

IP23

89.9%

12

SX460

ASF224G

101

81

110-690V

IP23

90.0%

12

SX460

ASF224GL

113

90

110-690V

IP23

90.0%

12

SX460

ASF274C

119

95

110-690V

IP23

90.3%

12

SX460

ASF274DS

131

105

110-690V

IP23

90.6%

12

SX460

ASF274D

150

120

110-690V

IP23

91.2%

12

SX460

ASF274E

168

134

110-690V

IP23

91.0%

12

SX460

ASF274FS

178

142

110-690V

IP23

92.3%

12

SX460

ASF274F

190

152

110-690V

IP23

93.3%

12

SX460

ASF274GS

210

168

110-690V

IP23

93.0%

12

SX460

ASF274G

225

180

110-690V

IP23

93.5%

12

SX460

ASF274H

238

190

110-690V

IP23

93.4%

12

SX460

ASF274J

275

220

110-690V

IP23

93.7%

12

SX460

ASF274K

300

240

110-690V

IP23

93.5%

12

SX460

ASF314C

300

240

110-690V

IP23

92.5%

12

SX440

ASF314DS

325

260

110-690V

IP23

92.7%

12

SX440

ASF314D

350

280

110-690V

IP23

93.7%

12

SX440

ASF314ES1

356

285

110-690V

IP23

93.5%

12

SX440

ASF314ES

388

310

110-690V

IP23

93.4%

12

SX440

ASF314E

419

335

110-690V

IP23

93.2%

12

SX440

ASF314FS

463

370

110-690V

IP23

93.0%

12

SX440

ASF314F

481

385

110-690V

IP23

94.0%

12

SX440

ASF354CS

563

450

110-690V

IP23

94.0%

6

SX440

ASF354C

594

475

110-690V

IP23

94.7%

6

SX440

ASF354D

625

500

110-690V

IP23

95.0%

6

SX440

ASF354E

706

565

110-690V

IP23

94.8%

6

SX440

ASF354FS1

725

580

110-690V

IP23

93.9%

6

SX440

ASF354FS

750

600

110-690V

IP23

94.1%

6

SX440

ASF354F

775

620

110-690V

IP23

94.0%

6

SX440

ASF354G

800

640

110-690V

IP23

93.8%

6

MX341

ASF404B

900

720

110-690V

IP23

93.2%

6

MX341

ASF404C

960

768

110-690V

IP23

93.3%

6

MX341

ASF404D

1080

864

110-690V

IP23

92.1%

6

MX341

ASF404E

1200

960

110-690V

IP23

94.9%

6

MX341

ASF404F

1350

1080

110-690V

IP23

94.7%

6

MX341

ASF404G

1500

1200

110-690V

IP23

95.5%

6

MX341

ASF404H

1650

1320

110-690V

IP23

95.6%

6

MX341