Supply the Ricardo Diesel Generator Output 13kVA to 300kVA with Hosem Brushless Alternator
Weichai Ricardo diesel generator with 3 cylinders, 4cylinders and 6 cylinders R series Ricardo diesel engine, which is produced in Weifang, couple with Hosem brand self-excitation brushless alternator, which is same technologies as the Stamford alternator. The supplied rated output from 13kVA to 300kVA.
Ricardo diesel engine is the U.K. technologies which are bought by Weichai Power before, and produce the diesel engine in China. they have the R sereis include the R3105, R4105, R6015 and R6110 diesel engine, for Ricardo generator output from 13kVA to 300kVA.
Hosem Power supply the Leroy Somer alternator, Stamford alternator, Marathon alternator and Mecc Alte alternator for optional for the Ricardo diesel generator, too.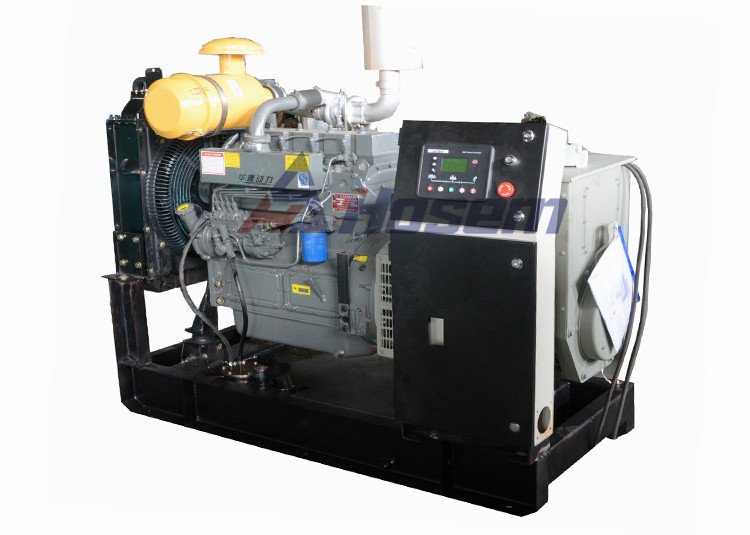 Supply Automatic Start and Stop Ricardo Diesel Generator with Open type and Soundproof Type for Optional.
Use the Smartgen brand HGM6120N automatic start and stop controller for the Weichai diesel generator as standard. We also have the Deepsea model DSE6020, DSE7320, and ComAp brand model AMF9, AMF16, AMF25, MRS10 and MRS16 for users' choice.
All the Ricardo diesel generator with base frame fuel tank for diesel generator continue run for 4hours to 12hours at full load, depend on difference model. And we can supply the daily fuel tank for the diesel generator, too.
Supply open-type Ricardo diesel generator, soundproof type Ricardo diesel generator for client choice. The soundproof type diesel generator with noise level at 75dBA at 7 meters as the standard. Hosem Power also supply the super silent generator, depend on clients' requested.
Welcome to send the enquiries for the diesel generator to Hosem Power.