400Hz Diesel Generator Output 180kVA Power Supply For Radar
1. Diesel Generator with frequency 400Hz for supply the electricity to Radar for amry use.
2. Rate Output 180kVA, 1500R.P.M., Votlage at 220/127V or customized made.
3. Choose Cummins brand diesel engine model 6CTA8.3-G2 for the diesel generator.
4. Special design 32poles alternator for 400Hz high frequency purpose.
5. Diesel generator with 350Litres base fuel tank, enought for diesel generator run for 8hours at 100% load.
6. Choose Smartgen brand controller model HGM7210 for 400Hz diesel generator.
7. Open-type, soundproof type, trailer type and light truck type diesel generator for optional.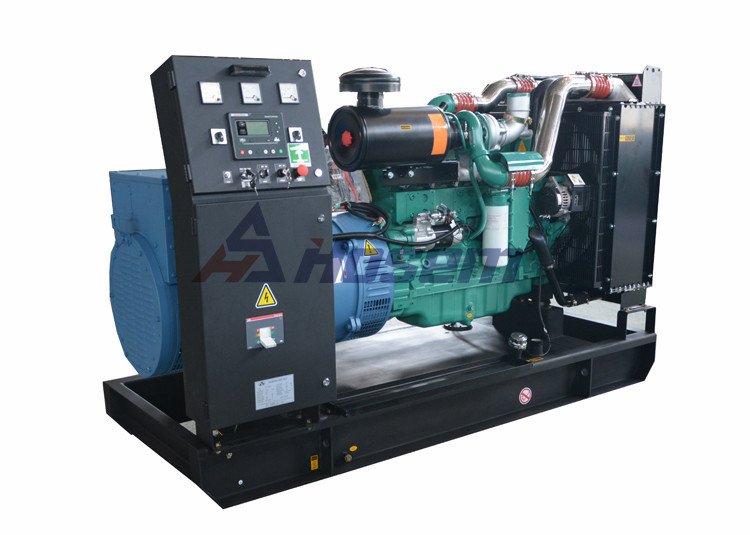 1. Main Performance and Specification of 400Hz Power Generator
1.1 Output of Diesel Generator
Genset Output

180kVA

Output Type

1) AC 400Hz, Three-phase 220V;

A.C Data

AC 400Hz Three Phase 220V

1) Rate Output: 180kVA;

2) Power Factor: 0.8 (Lagging)

3) Rate Voltage: 220/127V,3 Phase 4 Wires

4) Rate Frequency: 400Hz;

5) Rate Current: 472.4A;
1.2 Over Dimension and Weight
Over Dimension: 2655 x 1155 x 1595 Weight: 1950kg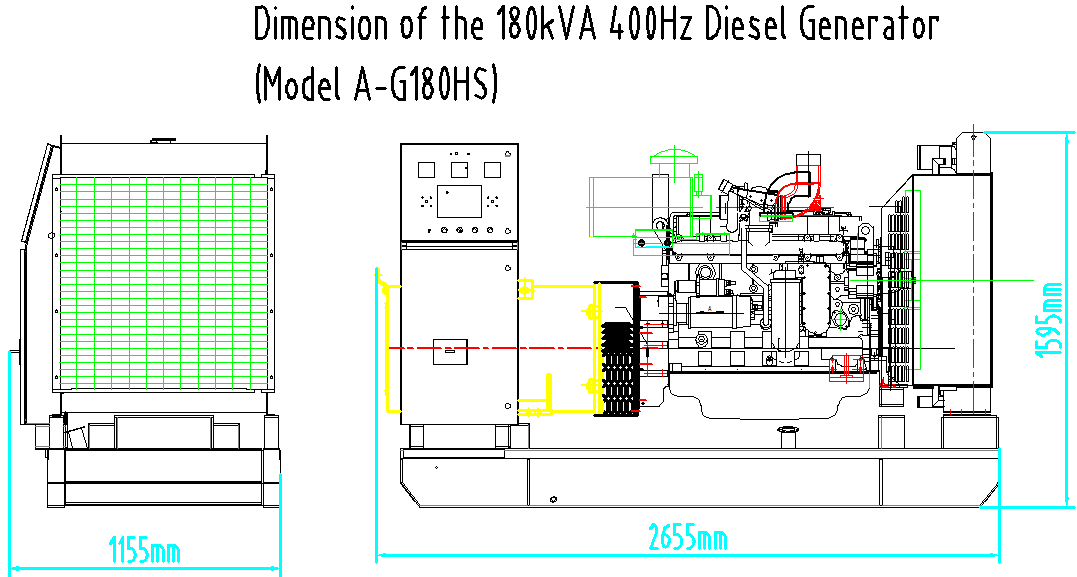 1.3 Specification of Diesel Engine and Alternator for 400Hz Power System
Diesel Engine

Model

6CTAA8.3-G2

Max. Output(kW)

207

No. of Cylinder

6 Cylinder in Line

Fuel Consumption (g/kw.h)

216

Bore / Stroke(mm)

114/135

Displacement (L)

8.3

Air Intake

Turbocharger

Compression Ratio

16:01

Lube Oil Capacity (L)

19.5

Steady Speed Rate (%)

≤1

Starting Voltage(V DC)

24

Cooling Water Capacity (L)

31

Emission

Tire II

Governor

Electric

Alternator

Model

H280-32

Excitation method

Brushless Self-excitation

Rate Frequency

400Hz

Power Factor

0.8 (Lagging)

Rate Output

144kW

Rate Current

472.4A

Insulation

H

Voltage Adjust Range

±5%

Protection

IP23

Steady-state voltage regulation

≤±1%

Efficiency

93%

Voltage Control Method

AVR
1.5. Control Panel
1.5.1. Diesel Generator Controller: HGM7210 Digital controller.
1.5.2. Breaker: ABB brand breaker model T5N PR221DS-LSI
1.5.3. Control Panel Include: Lighting, Power Switch, Emergency Stop Button, A.C. Voltage Gauge, A.C. Current Gauge, Frequency Meter, Voltage Indicate Selector and Current Indicator Selector.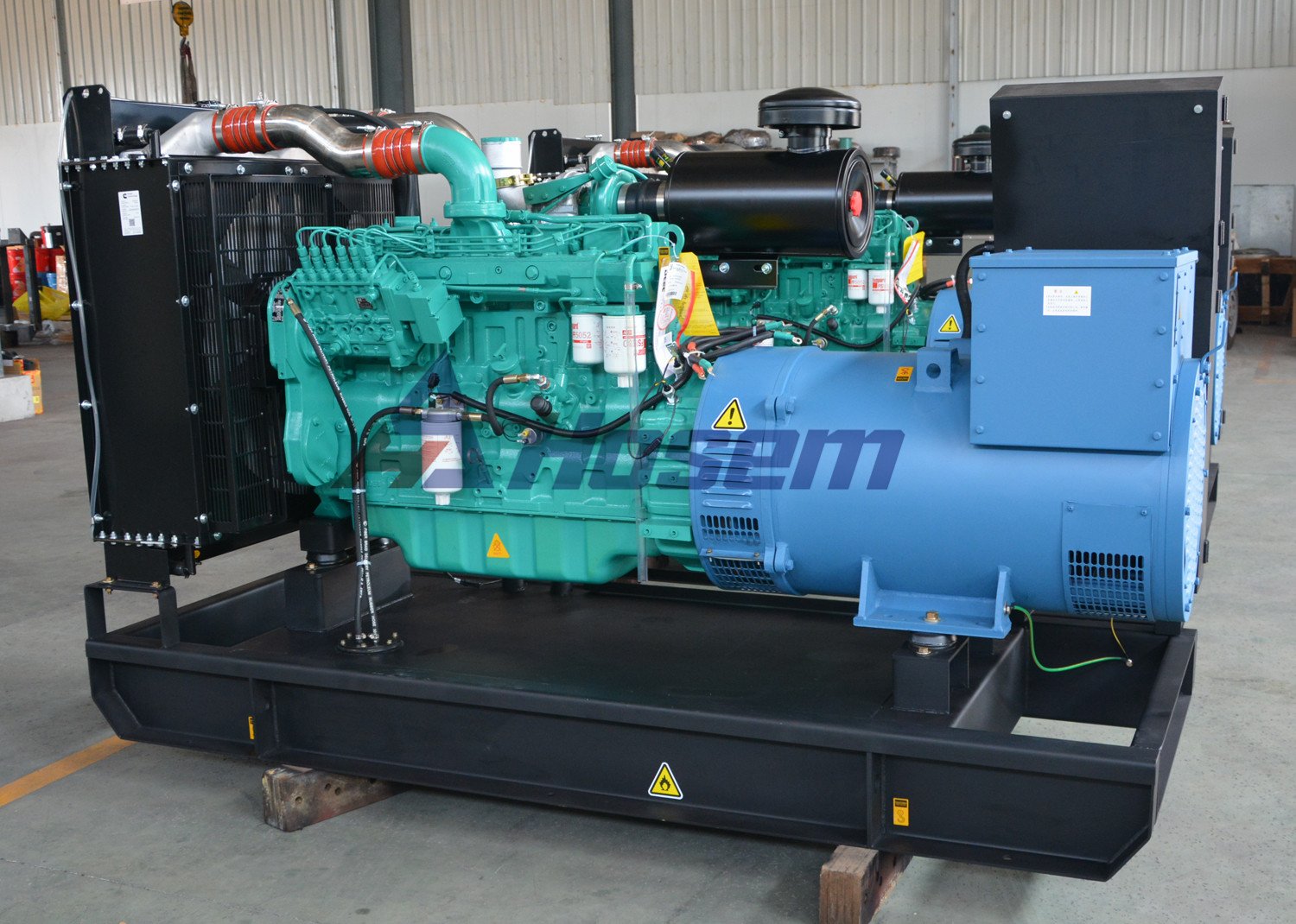 2. Specification:
2.1. Three Phase A.C. Power
2.1.2. Rate Voltage: 127/220V Three Phase Four Wires;
2.1.3. Rate Frequency 400Hz;
2.1.4. Rate Output: 144kW/180kVA.
2.1.5. Power Factor: 0.8 Lagging;
2.1.6. Rate Current: 472.4A;
2.1.7. Excitation: Self-Excitation
2.1.8. Voltage Standard:
(A)Steady Voltage Adjustment Range:213-226V from no load to full load.
(B)Load add 25% total generator set capacity in any phase, the generator set should be normally working. The voltage difference should not be excess +-3% between line voltage (Max or Min.) and average voltage of three phase.
(C)Voltage modulation: ≤2.5V;
(D)Under balance load, phase voltage shifting: 120°±4°;
(E)Phase no load voltage adjustment range: 127±10V;
(F)Transient voltage recover time: <6s;
(G)Sudden increase and decrease 100% load, voltage deviation: <±20%;
(H)Voltage adjustment range: ±10V
2.1.2.9. Frequency:
(A)Rate Frequency: 400Hz;
(B)Steady Frequency Range: 388-412Hz;
(C)Frequency steady time: ≤5 Sec in ±5Hz
(D)Frequency modulation: <2Hz
2.1.2.10. A.C. Power Protection:
(A)Over voltage trip: at 110% of rate voltage, delay 1-2 seconds(Adjustable)
(B)Low voltage trip: at 88% of rate voltage, delay 7 seconds (Adjustable).
(C)Over frequency trip: Over 430Hz, delay 2-5 seconds(Adjustable)
(D)Low frequency trip: Lower than 370Hz, delay 1-3 seconds (Adjustable);
(E)Over load trip: at 125% of rate output for 5mins (Adjustable)
2.2. Safety Device:
2.2.1 Engine Safety Device
1) Over Speed Protection
2) Low Oil Pressure Protection.
3) High Coolant Temp. Protection.
3. Diesel Generator Structure and Control Panel
Diesel generator is made up of base frame, fuel tank, diesel engine, radiator, alternator and control panel
Fuel tank capacity: not less than 8hours continue run at 100% load.
3. Control Panel:
Control panel install in the base frame, it is convenience for operation.
3.1. Control panel include the follow operation switch, instruments and indicator:
HGM7210 controller uses for control the diesel generator.
AC Voltage Meter;
AC Current Meter;
AC Frequency Meter;
Voltage Selector;
Current Selector;
Power Control Switch
Emergency Stop Button.
Control Panel Operation Lighting.
3.2. Main Power Output Breaker for 180kVA 400Hz Diesel Generator:
Use the ABB brand breaker with Split coil, when the diesel generator has the fault, it can disconnect the main output board.