Cummins Power Generator Output 250kVA 60Hz for Industrial
Supply 250kVA diesel generator with Cummins diesel engine model 6CTAA8.3-G2 with Leroy Somer alternator model TAL-A46-A. Use the Deepsea brand controller DSE7320 with automatic control made in the U.K. The details of the Cummins diesel generator as follows:
1. Cummins industrial generator with rated output 225kVA, standby output 250kVA at 60Hz, 1800RPM.
2. Diesel engine 6CTAA8.3-G2 rated output at 190kW, standby output 210kW at 1800R.P.M. for the Cummins generator. The diesel engine with the electric governor.
3. Leroy Somer alternator TAL-A46-A with rated output at 225kVA, standby output at 250kVA at 60Hz for Cummins generator set. The alternator with automatic voltage regulation.
4. Cummins power generator with frequency 60Hz, The voltage from 110V to 690V for users' optional.
5. Control panel use Deepsea DSE7320 controller with automatic start and stop and commercial power monitors.
6. 400Litres base frame fuel tank for 250kVA Cummins generator continues running for more than 8hours at 100% load.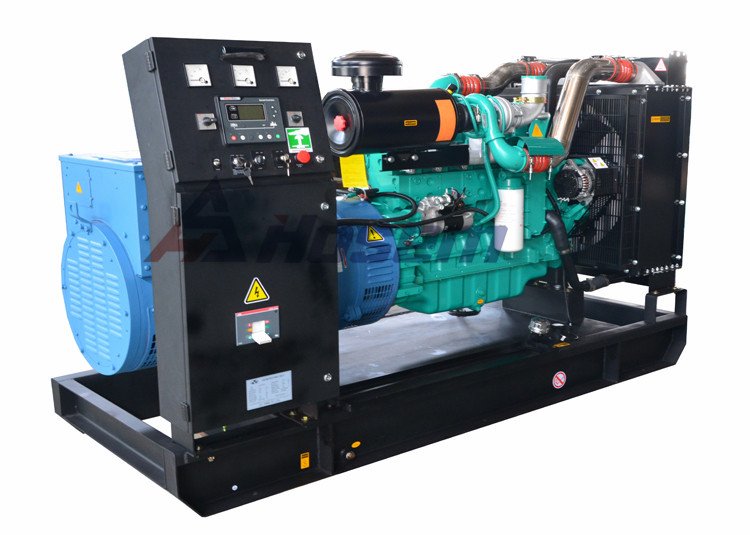 Cummins Power Generator Output 250kVA
Specification of the 250kVA Cummins Generator:
Model

A-C250H

Standby Power

kVA

250

kW

200

Prime Power

kVA

228

kW

182

Frequency

Hz

60

Output Voltage

V

240

Oil Consumption

L/H

0.15

Dimension For Open-type

mm

2450 X 1050 X 1650

Weight For Open-type

kg

1600

Dimension For Soundproof

mm

3500 X 1120 X 1700

Weight For Soundproof

kg

2400

Engine Model

6CTAA8.3G2

No.of Cylinder

6 Cylinder in-line

Bore

mm

114

Stroke

mm

135

Displacement

L

8.3

Cooling Fan Air Flow

m3

/min

240

Compress Air Flow

m3

/min

16.8

Exhaust Gas Flow

m3

/min

32.58

Exhaust Gas Temperature

℃

640

Lubrication Oil Capacity

L

20

Cooling Water Capacity

L

31

Starting Voltage

V

24

Engine Max.Output Power

kW

209

Alternator Model

TAL-A46-A

Alternator Brand

Leroy Somer

Rate Output

kVA

231

Frequency

Hz

60

Altitude

M

≤

1000

Insulation

Class H

Protection Grade

IP23

Alternator for choice

We also have Leroy Somer, Marathon, Mecc Alte and Chinese brand Brushless alternator for your choice.

Control Panel Model

AF500

Controller

Deepsea Brand Model DSE7320

Function of control panel

Automatic genset start/stop

Automatic battery charger

Emergency stop

AMF (Automatic Mains Fault)

Remote control

Micro-processor based design

LED alarm indication and Sound alarm

Display of the controller

Generator voltage: Uab, Ubc, Uca

Generator current: Ua, Ub, Uc

Generator temp.:

℃

/

℉

both display

Generator frequency: Hz

Generator power: kW, kVA, kWh, kVAr, kVArh, kVAh

Generator starts count: 999999 times (Max)

Generator pressure: kPa/Psi/Bar both display

Charging Voltage: V

Battery Voltage: V DC

Protection of Diesel Generator

Over / Under Speed Alarm and Shutdown

Start / Stop Failure Alarm

Over Current Alarm and Shutdown

Under / Over Generator Voltage Alarm and Shutdown

Low Oil Pressure Alarm and Shutdown

High Engine Temperature Alarm and Shutdown

Over Load Alarm and Shutdown

Low and High Battery Voltage Alarm

Lose of Speed Signal Alarm and Shutdown

Charge Fail Alarm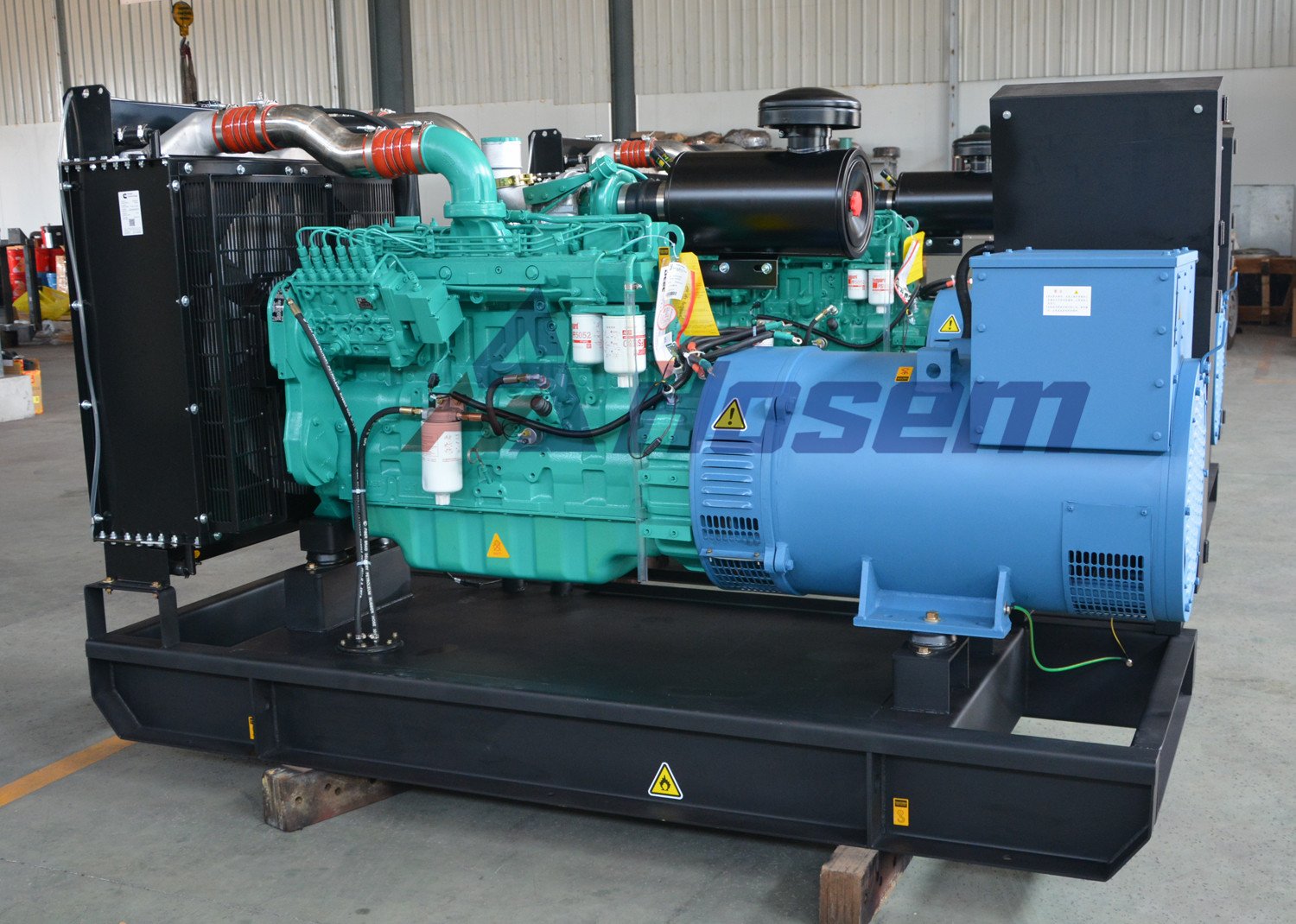 250kVA Cummins Power Generator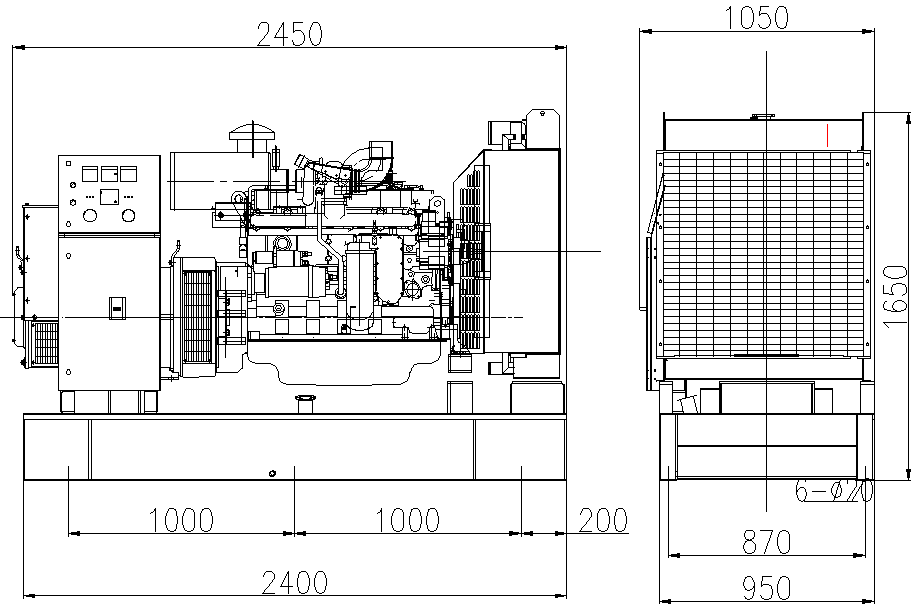 250kVA Cummins Industrial Generator