Silent Diesel Generator with Air-cooled Type 2.7kVA to 11kVA
Fuzhou Hosem Power Co., Ltd. supply the small diesel generator with air-cooled type diesel engine, the rate output of the diesel generator with 2.7kW with GF178FA diesel engine, 4.6kW with GF186FA(E) diesel engine, 5.5kW with GF188F(E) diesel engine, 6kW with GF192F(E) diesel engine, 7.5kW with GF1100FE diesel engine and 10kW with GF292FE diesel engine for 50Hz;
We also have the 60Hz diesel generator output with 3kW with GF178FA diesel engine, 5kW with GF186FA(E) diesel engine, 6kW with GF188F(E) diesel engine, 7kW with GF192F(E) diesel engine, 8kW with GF1100FE diesel engine and 11kW with GF292FE diesel engine for clients choice.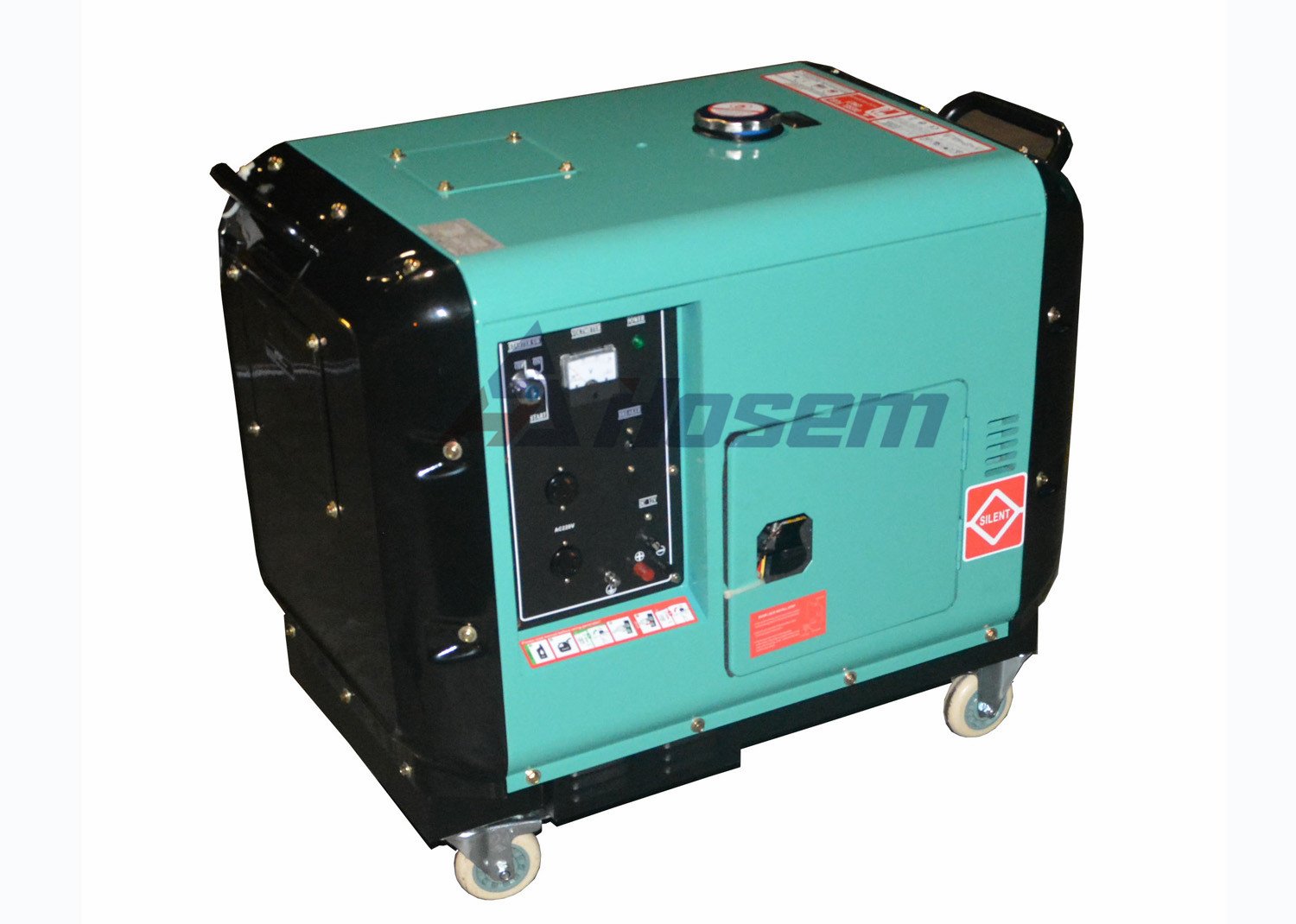 Optional Item for Air Cooled Generator:
A. Start type:
Electric start with battery is standard for silent type diesel generator.
ATS - start generator automatically, when the residential power stops, and transfer between city power and diesel generator.
Preheater device - start generator in the cold weather, the lowest working temperature is -20 degree celsius.
Remote controller - start generator far from 200 meters without any obstacles.
B. Alternaotr type:
Brush alternator with AVR as standard
Brushless alternator as choice
C. Panel type for optional:
British standard control panel
German standard control panel
Three phase control panel
Australian standard control panel
Panel with hour meter
USA standard control panel
Standard control panel
Hour timer
Emergency stop switch
South Africa socket
3-plug socket
French socket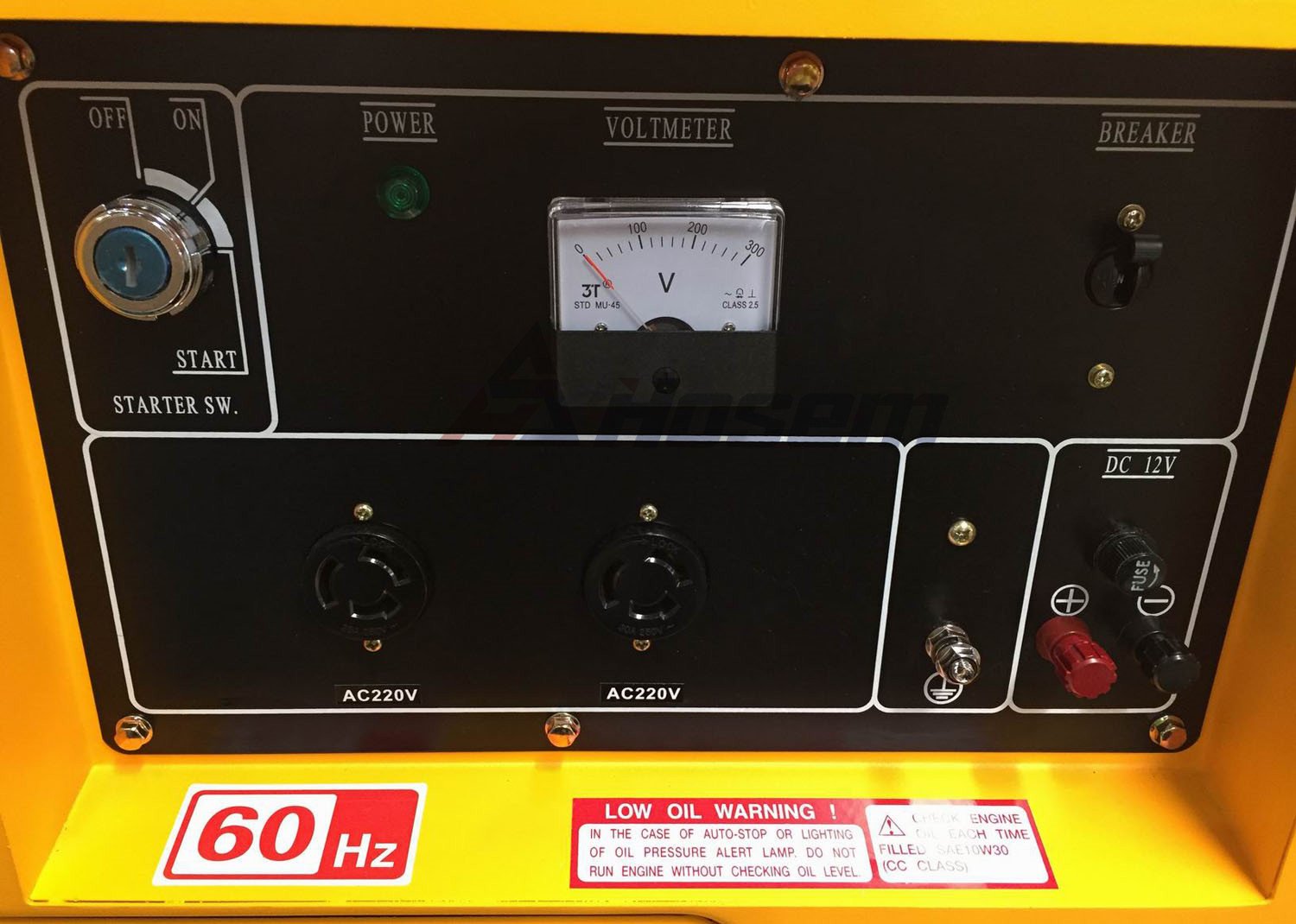 Specification of Air-cooled type Silent Diesel Generator:
Model

GF3500DS

GF5500DS

GF6500DS

GF7500DS

GF9000DS

GF12000DS

Type

Revolving Magnetic Field, Single Phase / Three Phase, Open-type

A.C. Frequency

50Hz

60Hz

50Hz

60Hz

50Hz

60Hz

50Hz

60Hz

50Hz

60Hz

50Hz

60Hz

A.C. Voltage

110V, 120V, 220V, 230V, 230/132V, 380/220V, 400/230V, 440/254V, 480/277V

Rate Output (W)

2700

3000

4600

5000

5500

6000

6000

7000

7500

8000

10000

11000

Max. Power (W)

3000

3300

5000

5500

6000

6500

6500

7500

8000

8500

11000

12000

Speed of Diesel Engine (R.P.M.)

3000

3600

3000

3600

3000

3600

3000

3600

3000

3600

3000

3600

D.C. Output (V/A)

D.C. 12V / 8.3A

Power Factor

1.0 Lagging

Excitation Mode

Self-excitation and Constant Voltage (AVR)

Engine Model

GF178FA

GF186FA(E)

GF188F(E)

GF192F(E)

GF1100FE

GF292FE

Engine Output (HP)

5.4

6.6

8.6

10.0

9.4

10.0

11.0

14.0

15.0

16.5

17.5

18.8

Displacement (cc)

296

406

430

456

688

954

Type of Engine

Single Cylinder, Air-cooled 4 Stroke

Double Cylinder, Force air-cooled, 4 Stroke OHV

Starting System

Recoil or Electric Starting for Optional

Electric Starting

Lube Oil Capactiy (L)

1.1

1.65

1.65

1.65

2.3

3

Fuel Tank Capacity (L)

15

15

15

15

25

25

Packing Dimension (mm)

935x535x715

935x535x715

935x535x715

940x540x740

980x680x850

1110x710x985

Net Weight (kg)

135

165

170

175

245

330

Shipping QTY for 20Fts Container

72

72

72

72

68

32

Shipping QTY for 40Fts Container

144

144

144

144

132

64